Dolphins give Jay Cutler $10 million to throw interceptions and not give a shit
Smokin' Jay Cutler is back in the NFL.
For those of you that missed seeing that permanent pouty half-smirk and those trademark off the back foot interceptions, the Miami Dolphins have come through, signing Jay to a one-year deal worth $10 million.
Miami's one-year deal with QB Jay Cutler is worth $10 million, plus incentives, per source.

— Adam Schefter (@AdamSchefter) August 6, 2017
That's some great contract negotiation from the Dolphins' front office. How do you lure a retired mediocre quarterback that notoriously doesn't give a shit out of retirement?
Give him $10 million and a house in Miami.
I'm sure no one on the Miami roster will resent the fact that Jay Cutler is making $10 million a year as he throws ducks around the field and then yells at his receivers and offensive linemen.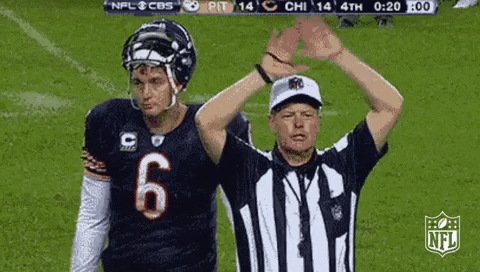 Jay Cutler is an undeniable talent. He still has one of the best arms in football, despite suffering a labrum injury last year and being retired until yesterday.
He can sling it with the best of 'em and when it works out, it's pretty awesome.
The issue is that it rarely works out, that his knack for SLINGIN' IT is also basically his worst trait, he has quite the penchant for throwing back-breaking interceptions at crucial times, and the aforementioned lack of giving a shit makes those interceptions all the more infuriating.
A Google search for "Jay Cutler face" brings up some beautiful results of that trademark post-interception expression.
Poor Bears fans.
I'm sure even the sight of that face is enough to send a surge of anxiety down the spine.
Trolling Packers fans have put together numerous montages of Jay Cutler interceptions.
Here's a 9-minute-long (NINE MINUTES!!) video of all of Jay Cutler's interceptions against the Packers. That's just one team.
You gotta watch at least a large segment of this video, unless you're a Bears (or Dolphins) fan. Cutler makes such comically awful throws he almost levitates bad quarterbacking to an art form.
When you think he can't possibly make a worse throw… BOOM Smokin' Jay chucks it up into triple coverage as he's being sacked.
Here's another harrowing montage of Cutler (yes made by a Packers fan) set to background of Beavis and Butthead laughing. Brutal.
Anyways, before Cutler's season was cut short last year with a labrum injury, he threw 4 touchdowns and 5 interceptions in 5 games, completing less than 60 percent of his throws.
Back in May, Cutler announced his retirement and decision to join FOX as a broadcaster.
Like, this dude was PERFECTLY CONTENT to be a broadcaster and never play in the NFL again, but Miami thought he was just the guy to replace the injured Ryan Tannehill.
Miami head coach Adam Gase knows Cutler from his one season as Chicago Bears offensive coordinator. I guess that's enough to explain the decision? But that logic doesn't remove the fact that Jay Cutler is just not the guy.
The Jay Cutler move makes sense from HC/QB relationship but some of y'all I see are on this Cutler hype train….let's be real now

— Damien Woody (@damienwoody) August 6, 2017
He's not the guy! I don't know what else to say, Jay Cutler is not going to make your team better.
The Dolphins with Jay Cutler at QB?

"Instantly better." https://t.co/i70mOT3SsH

— NFL (@NFL) August 7, 2017
David Carr, dude, what are you talking about?
No.
Most rational people reacted to the Cutler news by making the obvious point that it's still FUCKING INSANE that Colin Kaepernick isn't employed by an NFL team.
Kaepernick– beloved teammate with 4 playoff wins — no job … Jay Cutler – poor leader who has won a single playoff game — hired 🤔

— Real Late 2 Soon Come (@Rosenbergradio) August 6, 2017
Jay Cutler | Kaepernick | "Football Decisions" pic.twitter.com/kYo676O2B8

— L E F T, PhD ⚫️ (@LeftSentThis) August 6, 2017
Jay Cutler really got a job before Colin Kaepernick? The NFL on good bullshit, that's like passing on a Corvette for a fucking Suzuki…

— Chico Bean (@chicoBean) August 7, 2017
Colin Kaepernick should apply for Jay Cutler's TV gig.

— Frank Isola (@TheFrankIsola) August 6, 2017
You can tell how much people hate Kaepernick because they are actually defending Jay Cutler. In any other circumstance they kill Cutler.

— Robert Littal BSO (@BSO) August 6, 2017
The Dolphins signed Jay Cutler and not Kaepernick pic.twitter.com/MU2tin7VzN

— Matthew A. Cherry (@MatthewACherry) August 6, 2017
Many took their time to simply mock Cutler and the Dolphins, a match made in quarterback hell.
You've reached a special place in football Hell when you are begging Jay Cutler out of retirement.

— Dan Le Batard Show with Stugotz (@LeBatardShow) August 6, 2017
Jay Cutler is signing with the Miami Dolphins, here he is in Madden. pic.twitter.com/HDDklU3nVa

— Steve Noah (@Steve_OS) August 6, 2017
Jay Cutler just performed the most elaborate trick ever executed to get out of two weeks of training camp.

— Kevin Clark (@bykevinclark) August 6, 2017
BREAKING: Miami Dolphins protesting for new logo after signing Jay Cutler. pic.twitter.com/oxYsxnPylb

— Fake SportsCenter (@FakeSportsCentr) August 6, 2017
It would appear that the Dolphins front office didn't watch too much Cutler game film…
https://twitter.com/HighlightsCrazy/status/894255243965468672
Regardless, we're excited to see Cutler out in Miami! There's sure to be some great comedy out of this wonderful partnership.
"Jay Cutler on cocane"is actually the exact personalty type u want if your desiging a QB in a lab. Miami could be perfect landing spot

— PFT Commenter (@PFTCommenter) August 6, 2017