Disney could give Netflix the Mickey Mouse hands with Disneyflix
Would it be a fair one if we don't give Disney a chance to shoot the hands in the ring of media streaming? After all, Mickey Mouse has been throwing fists since 1923. Damn, those are some dusty ass gloves.
Still, it was only a matter of time until Disney dusted those shits off, went back to the drawing board, and figured out a way to possible pulverize the king of entertainment streaming, Netflix, into the ground.
Netflix should be shook of facing defeat as they just priced a junk-bond offering of $1.9 billion in order to fund more original content in hopes of a massive takeover in the near future.
Another reason Netflix should be wary? Disney's new streaming platform which is set to make its American debut in 2019, Disney(flix), might have the oomph to knock the streaming empire right out its cooked Balenciagas.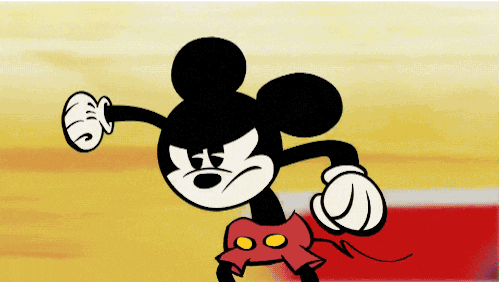 If we were to take what Disney has under its entertainment umbrella and compare it to Netflix's content, Walt's company beats Hasting's company over and over again.
Let's think about it for one minute. Disney owns Fox, ABC, Marvel, Pixar, and LucasFilm. That would mean that would be able to stream The Simpsons, Modern Family, Black Panther, Toy Story, and the Star Wars saga. Light work.
Not to mention that it could just pull every single move affiliated with Disney off of Netflix and stream it on DisneyFlix. That's a jux if I've ever heard of one.
Disney would also body the sports entertainment industry adding a new element to streaming. For one, they basically own all of ESPN, Inc. and last year the company paid $1.58 billion to acquire an additional 42% stake in BAMTech.
BAMTech is "a global leader in direct-to-consumer streaming technology and marketing services, data analytics, and commerce management—from MLBAM, the interactive media and Internet company of Major League Baseball."
Low key, the acquisition has put Disney way ahead of Netflix and is a way to keep their top earning network, ESPN on top. Damn, that's another lost round for Netflix.
However, if Disney wants to stay ahead of the curve they'll have to have great subscription retention as Netflix's subscription numbers stand at a whopping 117.6 million.
Low key tho, Disney already has a massive streaming audience with its 60 percent stake in Hulu and all. Hopefully, Netflix will be able to knuckle up, they are so close to becoming worth more than Disney.
If not, it might be a wrap for the streaming service we've all become addicted to.