Breaking Barriers: Will Spike Lee's vision help diversify Cannes this year?
The Cannes Film Festival announced that Spike Lee would serve as president of its jury in May, making it the first time in the French festival's 73-year history that a black person will do so.
As prestigious as anyone in the film industry, Spike Lee is a fantastic choice to head the jury for the Cannes Film Festival. The jury holds the sole responsibility of choosing which films will receive awards.
View this post on Instagram
As 2020 brings in the new decade, there is no one more respected, appreciated, and revered as Spike Lee to decide which films will take home the prizes. Lee's most recent film, 2018's BlacKkKlansman, won the Grand Prix, or second place overall.
"In this life, I have lived, my biggest blessings have been when they arrived unexpected when they happened out of nowhere."
Lee continued, "When I got the call that I was offered the opportunity to be President of Cannes Jury for 2020, I was shocked, happy, surprised and proud all at the same time."
View this post on Instagram
BlacKkKlansman follows an undercover black police officer in 1970's Colorado Springs, and stars John David Washington, son of iconic Denzel Washington. After the screening at Cannes, the film received a lengthy standing ovation and went on to earn six Academy Award nominations, including Best Director for Lee (his first nomination in this category). Furthermore, Lee's BlacKkKlansman serves as his first entry to the Cannes Film Festival in 22 years.
In 2019, Mexican director Alejandro González Iñárritu served as jury President, and Parasite, the thrilling South Korean flic directed by Bong Joon-ho, won the Palme d'Or, the festival's highest prize.
The announcement of Lee as Jury President should be a welcome one to cinema fans across the world. In light of the Oscar nominations and the ensuing debate over how the Oscars are #sowhite and only acknowledge #whitemen, Lee's opportunity, already 20 years into the millennium, underscores a serious reality…
Black filmmakers are not awarded the same opportunities as their white counterparts. To be respected for their efforts, it seems black filmmakers must go above and beyond the conventional standards.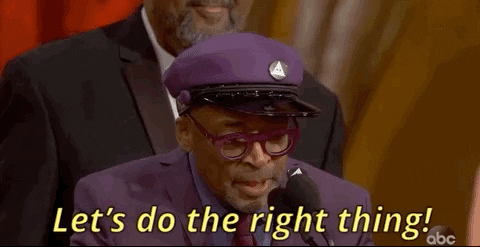 Spike has spoken on behalf of the disenfranchised in the past, whether it was speaking about gentrification, the lack of diversity in Hollywood, and racism as a whole.
His position in the spotlight at this festival will hopefully garner attention to diversifying the culture around film and the conversations people have concerning cinema.
Cannes president Pierre Lescure and artistic director Thierry Frémaux released a joint statement over the announcement of Lee as Jury President.
"Spike Lee's perspective is more valuable than ever," they wrote.
"Cannes is a natural homeland and a global sounding board for those who (re) awaken minds and question our stances and fixed ideas."
Spike seemed just as pleased and exciting about serving at Cannes.
"To me, the Cannes Film Festival (besides being the most important film festival in the world – no disrespect to anybody) has had a great impact on my film career. You could easily say Cannes changed the trajectory of who I became in world cinema."
Spike Lee is honored to have this opportunity and film enthusiasts are excited to see how the awards shake out. For those of us that rightfully appreciate Spike, there truly is no better man for the job.
View this post on Instagram