Bill Gates and Warren Buffet are teaming up to body Bitcoin
"Be careful what you wish for," is perhaps the most infamous expression of all time. We all have dreams of living lavish in the top 1% percent of the world.
The journey for more money can be addicting. But universally, this adage remains true: "Mo' money Mo'" problems and "real g's move in silence like lasagna."
What's beef?
Bill Gates has come to his billionaire bro Warren Buffett's aid to take down Craig Wright and the cryptocurrency game. Why? Because the Australian entrepreneur Craig Wright, the 'creator' of Bitcoin, is taking money out of their pockets. The less money investors are spending in the stock market, the more go towards cryptocurrencies.
Gates and Buffett, being major shareholders in a grip of companies, ain't having it! With Gates going as far as saying cryptocurrencies are causing death and Wright fighting lawsuits, it's war.
---
How the beef started
The origins of Bitcoin has always been under heavy speculation. Warren Buffett, the OG investor and CEO of Berkshire-Hathaway, was never interested in Bitcoin from the jump. Microsoft inventor and shareholder, Bill Gates, wasn't rocking with Bitcoin either. Buffett and Gates are best buds.
As Bitcoin continues to thrive, it has become too big for Gates and Buffett to ignore. When you are two of the largest shareholders in the world, it's going to ruffle your feathers because investors aren't spending money on your stocks. Stubborn and unwilling to accept Bitcoin they must destroy their competition, Craig Wright.
https://giphy.com/gifs/dogecoin-aUaZhzx7UFPgY
---
Warren Buffett throws shots
It's widely believed that Satoshi Nakamoto is the creator of Bitcoin, along with the first blockchain database eliminating double-spending (or as Nipsey Hussle would say, "F**k the middle-man"). Wright, claiming to be Nakamoto, recently was hit with $10 billion lawsuit.
When Warren Buffett speaks about money, you listen. In January, during an interview with CNBC's "Squawk Box", Warren Buffett was dissing cryptocurrency, claiming that its rise to fame will be short lived.
Buffet said:
"In terms of cryptocurrencies, generally, I can say with almost certainty that they will come to a bad ending."
Buffett's statement sent Bitcoin's value spiraling down. Hour by hour it continued to drop. Hitting as low as $6,166 going into February, its future looked bleak.
In an unusual sequence of events, Clark Wright being hit with a lawsuit may have solidified the cryptocurrency's legitimacy. With there being a true face behind the currency, Bitcoin's value is floating around the $10,000-$11,000 mark going into March.
---
Bill Gates misses with haymaker
What's surprising is how resilient Bitcoin remains even after Bill Gates' latest haymaker. On Tuesday, Gates put his Twitter fingers to work, jumping on his official Reddit account to hold an AMA (ask me anything). He was raising awareness about the dangers of cryptocurrency and claiming that it causes deaths.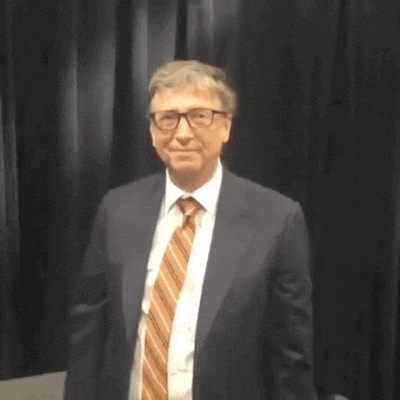 Gates wasn't done yet! When another Reddit user claimed that Fentanyl can be bought with cash, he rebutted.
"Yes, anonymous cash is used for these kinds of things but you have to be physically present to transfer it which makes things like kidnapping payments more difficult."
---
Real G's move in silence like lasagna
Despite the jabs, Wright remains unbothered. According to a federal lawsuit Wright and his business partner and computer wiz David Kleiman amassed over 1.1 million Bitcoins and their own company.
The whole time they were building Bitcoin, Wright allegedly stole $5 billion from Kleiman! If you think that's wild it gets even better. Wright wasn't done there, he also tried to take the Kleiman's blockchain property rights. David Kleiman is also deceased.
That is crazy right? It gets even weirder! According to the federal lawsuit, Wright is accused of backtracking dates and forging contracts. Scandalous fams I know, but the 1% is a whole different world.
---
To be continued…
Through it all, Craig Wright is Harlem shaking through the pressure. Wright has remained quiet. His only remarks have come through subliminal tweets at his haters.
It should be interesting to see how this affair turns out. Is Bitcoin going to control the future markets? Or will Buffett and Gates rally to end cryptocurrency?