Artist Spiff Ellis is reminding creators why they're super heroes
"I'm not going to paint a picture of what you want, I'm going to paint a picture of what you need."
There's something special in all of us, a little tweak in our DNA that makes most of us want to chase after something greater. It serves as an ambitious nerve that keeps us creating.
From the moment we're able to dream, we want to become more than that "everyday kid from a neighborhood." The same could be said for the transformation and growth of North New Jersey artist Andrew "Spiff" Ellis.
In an interview with the Hub, the illustrator, musician, producer, designer, and sculptor reflected on his artistic origins and glow up.
"It pretty much was embedded in a way. It was my father drawing all the time around me. It's something I kind of caught onto…"
Spiff continued to reflect on his origins:
"But I didn't really think that I was gonna take it as far as I've taken it. I saw him draw all the time… and I was wondering what it was he was doing."
Instilled with his father's proclivity for drawing, Spiff took a liking to art at an early age. It was his curiosity that allowed him to crave art and wherever art made itself available, he studied it.
Whether it was the sounds of North New Jersey, the corner boys cooly sporting their custom airbrushed shirts and airbrushed Timbs, or graffitied buses, Spiff Ellis was never lacking creative resource material.
The prevalence of these influences compelled him to create art using various mediums ranging from Lego sculptures to customized sneakers and hand-paintings (a key moment in Spiff Ellis' journey that we will later return to).
View this post on Instagram
King Spiff's artistic tendencies guided him in a direction that would later become his current life.
However, the journey of this stoic and deeply philosophical artist was never without obstacles, which brings us to the second building block of Spiff Ellis' artistic journey – resistance.
"A neighborhood… where everybody is banking their whole life on sports: football, baseball, basketball; I felt like that just wasn't for me."
The deceptively alluring mystique of the streets. The glass-ceiling of the ghetto. The proliferation of hoop dreams. Together, these were the deterrents that served as the incubator of Spiff Ellis' upbringing.
And yet, his mind was always elsewhere, somewhere far removed from the burdensome gravity of these obstacles.
View this post on Instagram
"I was never thinking about football when I left football practice. I was looking  at cartoons wondering how Marvel would draw Spider-Man; how did they get the cartoons to move…"
Spiff continued,
"I'm on the field thinking about how to animate the play… I was never present… I realized [then] that it was my calling."
Rather than succumbing to the far-fetched lore of a sports career, King Spiff chose to do otherwise and follow his own intuition. His resistance to the ways of the streets and hoop dreams led him down another path.
Before Spiff knew it, he was a fastidious student of the arts who carefully studied costume design and set design of movies.
Flicks like Friday and Salvador Dali's avant-garde and conceptual approach to art became a significant inspiration subject of study for the artist.
Also, Basquiat's cryptic yet thought-provoking tagging influenced Spiff Ellis as well.
"I always liked how he [Basquiat] would put messages on the street. He would just draw all over NYC and make you think."
View this post on Instagram
Equipped with a childlike curiosity and yearning to both study and create art, King Spiff understood that art would help him define his own identity.
However, it was the eternal vise of the afterlife that brought forward the third building block of Spiff's artistic identity- compassion.
On the eve of 2014, the world lost a beloved man and actor, James Avery who played Uncle Phil from The Fresh Prince of Bel-Air. He didn't make it after an open heart operation went awry.
While the pain of Avery's passing weighed heavily on the hearts of those he affected, Spiff took it upon himself to celebrate Avery's legacy rather than mourn his passing.
View this post on Instagram
Fresh Prince is a cultural, iconic show and when he [Avery] passed away, something told me to just draw. I drew it and it did the unimaginable."
Inspired by arguably the most heartfelt episode of The Fresh Prince Of Bel-Air, "Papa's Got a Brand New Excuse," Spiff created an image that captured an unforgettable moment.
In a simple yet powerful illustration, a distraught Will and an empathetic Uncle Phil are drawn, in a moment, seconds before an embrace.
Using a simple yet powerful solid red backdrop while placing a halo on top of Uncle Phil's head, Spiff's homage to James Avery's life and legacy marked a pivotal instance in the artist's life.
"I feel like that was a monumental moment in my art career and my life… When I say my dad was around, he wasn't always around…"
Ellis continued,
"Looking at a TV dad and looking at a Black family that was wealthy, was something you didn't see depicted on television, ever."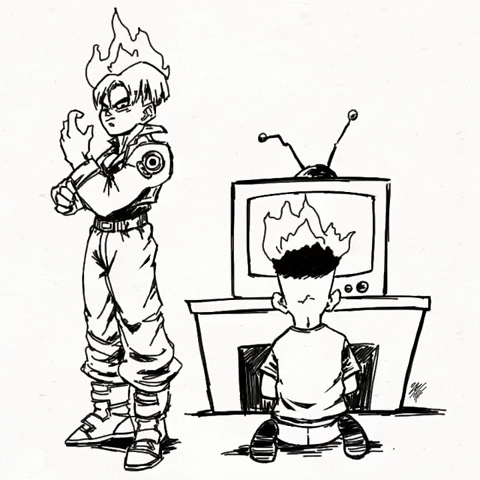 For Spiff, the unimaginable was something that superseded thousands of likes, retweets, and re-posts. The unimaginable was an illustration's ability to touch the hearts of people who grew up watching the iconic show.
As well as the cast who worked with James Avery, specifically DJ Jazzy Jeff who personally reached out to the artist and thanked him for his heartfelt homage to his friend.
This innate sense of humaneness led Spiff to better understand the impact his work had on other people's lives. What was once a journey of artistic discovery now became Spiff's story of redemption.
When asked about the carefully chosen themes in his art, Spiff said, "redemption." He wants his fans to find redemption in his work, a sort of healing.
"Redemption is the biggest part. I think that's honestly what I say my work is about."
View this post on Instagram

Recognizing his own spiritual and emotional growth, Spiff knew that his journey was becoming one of healing. To prove it, he's championed the hashtag #healboys over the internet colloquialism #sadboys.
This leads us to the last building block of Spiff Ellis' artistic identity,  the inner child.
"There's a little boy in me that's screaming to get out. We have all held the funeral for our younger selves once life started to hit us with problems. We let go of what was and all that we ever will be, young."
Our inner-child always lives on. We always have the capacity to be the purest form of ourselves. To this day, Ellis still prefers loud sneakers, enjoys water-parks and loves finger painting.
It's evident that the artist's inner spirit is something all creatives try to grasp. It represents who we truly are.
In our conversation, Spiff was eager to reflect on a moment where he reconnected with finger painting
"It's refreshing to see my own hand. I lowkey, on some Lion King, Simba vibes, put my current hand over my younger hand and feel a connection. I realize that I'm not that far from that age."
View this post on Instagram
And so, here we are at the end of our conversation with Spiff Ellis. But when one journey ends another begins. A new journey awaits, one filled with trials and tribulations. Redemption awaits. Stories of healing await.
Stories about life waiting for us on the precipice of storyteller's crafty tongues. For now, enjoy and learn from the story in front of you.
View this post on Instagram