Are we ready for 'Leaving Neverland,' the bone chilling HBO doc about MJ?
Michael Jackson will forever go down in history as the King of Pop, a moonwalker, and an alleged child molester. Yeah, the man was hella off, aight. Still, he changed the world and gave hope to millions, maybe, billions of people.
Some might even say that Jackson's obsession with his craft was absurd. Spike Lee once said, "his work ethic was legendary." Another great, Wesley Snipes, said working with Jackson was an "unbelievable" experience. Plus mostly everyone in the music business when asked, 'Who do you want to work with?' They answer, MJ.
The man worked countless hours to make sure everything related to music was done properly and for him, there was no time for a flaw, except for in his personal life.
Who knows when he might have gone off the deep end, for real. It could've been years ago when Joe was beating the shit out of him backstage before a Jackson 5 performance.
Perhaps it was when he almost burned his head off during a Pepsi commercial or when the world began to notice his chameleon-like change of skin tone.
Maybe it was the press that dragged his name constantly through the mud, even after MJ was found not guilty on all charges for his child molestation accusations.
Yes, inviting children to play with you at your theme park called Never Land is suspect AF, especially when you are a grown man. Regardless, we know things looked bad and it seemed as if the charges were going to stick, but they didn't.
But MJ has always been a weirdo. Even Quincy Jones noticed it when he and MJ first met. The Guardian asked Jones, 'Did you ever have to take Michael to one side and tell him he was being too weird?' Jones replied, "Only when we first met, when he was 12."
Could you have survived in MJ's shoes where everything you say, touch, and do can become a liability? We bet you couldn't handle it. All the money in the world couldn't combat the stress and sacrifice the King of Pop had to deal with.
Was it stress that led to MJ's untimely death? Who knows? Probably. Anyone who has a doctor on deck at all times to feed them painkillers and anesthetics is trying to numb something.
We have to wonder, would he have been able to still lead the life he was, if he didn't OD? We can take a look at the cases of R. Kelly, Bill Cosby, Harvey Weinstein, or Kevin Spacey, and think, 'yes, but behind bars.'
Either way, MJ would constantly have to revisit the darkest hours of his life, whether it be through an insensitive meme, a vulgar tabloid title, or maybe a new documentary that has spun his fantasy world into a nightmare.
Leaving Neverland which has just premiered at the Sundance Film Festival is said to have done just that. According to reviews, the new two-part documentary, which is set to hit HBO later this year, is a bone-chilling watch and contains interviews with those who were "touched" by the white glove wearing performer.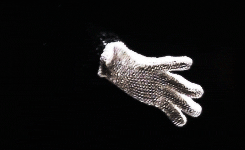 James Safechuck makes an appearance in the doc. Back in 2014, Safechuck claimed that MJ molested him over 100 times over the course of four years. Safechuck, now 36, met MJ when he was 10. Both were on set for a Pepsi commercial. During the doc, he goes in and explains all of the disturbing things MJ made him do.
Safechuck explained that MJ would put on fake marriages, the two would engage in sexual acts at Jackson's Neverland compound, and the pop singer would hold drills in which he would train 10-year-old Safechuck to put his clothes on quickly in case any witnesses should appear. The former child actor also added that MJ would say,
"If anyone ever found out that we were doing these sexual things, we would go to jail for the rest of our lives."
Other victims are interviewed as well, including Wade Robson who was molested by the pop singer when he was seven. Both Robson and Safechuck testified under oath that they weren't victimized by the moonwalker and said that at the time they lied on the stand because of direct pressure from MJ.
Interviews from the parents which are included in the doc hope to give an answer to a question we've all been asking — why would you allow your children to hang out solo with a grown ass man?
Regardless of MJ's molestation accusations and the new documentary, Leaving Neverland the Jackson family are still standing by his side. A recent statement read:
"Michael Jackson is our brother and son. We are furious that the media, who without a shred of proof or single piece of physical evidence, chose to believe the word of two admitted liars over the word of hundreds of families and friends around the world who spent time with Michael, many at Neverland, and experienced his legendary kindness and global generosity. We are proud of what Michael Jackson stands for."
The statement continues on saying,
"People have always loved to go after Michael. He was an easy target because he was unique. But Michael was subjected to a thorough investigation which included a surprise raid of Neverland and other properties as well as a jury trial where Michael was found to be COMPLETELY INNOCENT. There has never been one piece of proof of anything. Yet the media is eager to believe these lies."
We can only wonder if LaToya will stand by his side too. We know that she gave us tell-tale signs that Michael Jackson "our hero" had a dark $23 million secret back in 1993. Peep.