Are the Rockets revolutionizing basketball with their 'little' lineup?
"Where were you the night that Daryl Morey killed the Center position?"
That's a text I received last night during the first quarter of Rockets-Lakers. After trading Clint Capela, their $90 million starting center, on Thursday the Rockets rolled out a starting five that had the shortest average height since 1963.
Not a single player was taller than 6'6. The Lakers of course had a starting frontcourt of LeBron James (6'8), Anthony Davis (6'10) and JaVale McGee (7'0). Given the Lakers record (38-11), last night would be the first true litmus test of Daryl Morey and Mike D'Antoni's mad experiment: can dominant shooting/spacing overcome dominant size in today's NBA?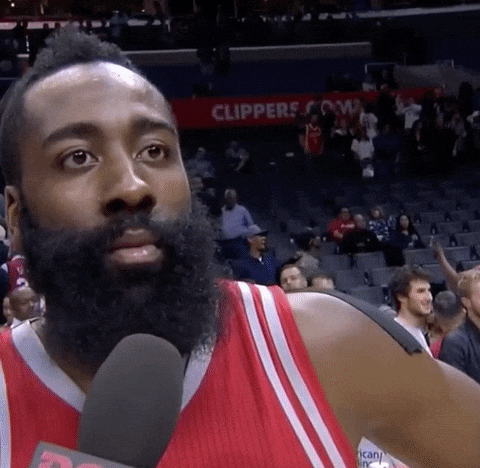 I felt like I was watching a collision of two different team practices: shooting drills versus a lay-up line. Though the first half was tied at 63 apiece, optically the Lakers had owned the Rockets — Davis might as well have been guarded by middle schoolers as he got into the paint at whim and LeBron finished the first half with 9 assists.
They made every bucket look easy and the announcers seemed to think that the Rockets had leaned a little too far into this whole "Small Ball thing." Charles Barkley and Shaq made similar comments at the half (because of course they did) saying that this style wasn't sustainable and that the Lakers big men would wear down the Rockets in the second half.
If you've watched a D'Antoni-coached team over the years you know that in addition to the 3-point shooting, spacing, and fast pace, there's also the essential feature of having a premier pick-and-roll man who can set a solid screen for his point guard. His job is to roll hard to the rim as the point guard goes downhill and either a) shoots, b) passes to a perimeter player for a three or c) lobs it to the roll man for a dunk/lay-up.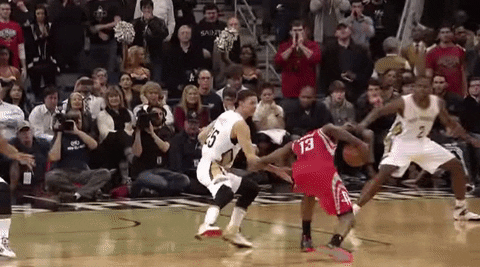 Amare Stoudemire was that roll man on D'Antoni's Suns and Knicks teams, as was Dwight Howard for his Lakers team (who were garbage). Clint Capela had been that roll man for a Rockets team that won 65 games just two seasons ago and had also come the closest of any team to beating a fully healthy Warriors squad during their pseudo-dynasty.
In the lull of James Harden's iso-heavy style of play, the most exciting breaks in monotony would often be an alley-oop from Harden to Capela — the recipient of the majority of Harden's assists.
Then Harden broke basketball. For the last two seasons, he's not only led the NBA in scoring, but he's also done so in a fashion never before seen or imagined–by taking 20+ combined free throws and threes per game.
All of these offensive opportunities are set up by his footwork, but more importantly, by his stepback three. He became such a dominant isolation scorer, that having Capela set a screen for him became more of a luxury than a necessity. And this season, he found himself playing alongside another ball-dominant player in Russell Westbrook — a scoring guard who cannot shoot threes in the most prolific three-point shooting system in NBA history.
Westbrook for three… pic.twitter.com/7Am4I2WC58

— Ballislife.com (@Ballislife) November 23, 2019
Russ cannot stretch the floor, but he takes up space — both physical and emotional. He is still one of the three scariest players in the open court following a rebound. In the half-court, he can still get to the cup at will, but if there is a center in the lane guarding the Rockets' traditional center, it muddies what Russ is best at.
The combination of Harden's historic isolation scoring and Westbrook's need for space in the paint made it necessary to deal Capela and go all in on this Small Ball movement. According to "StatMuse", Houston is 10-1 without Capela this season. As of last night, they are 11-1.
The second half of Rockets-Lakers featured a torrent of threes from the Rockets–they finished with 19 made threes to the Lakers' 9, but had also taken 11 more. The larger oddity is that the Lakers only outrebounded them by 1. It should be noted that a significant portion of this run came when LeBron sat and if you've watched the Lakers at all this season, you know their offense craters when he sits. It's also only one game.
Just one regular-season game — probably doesn't mean anything! But. If you're the Rockets, you have to play the math of the personnel you're dealt with. I don't believe it will hold up over a seven-game series against the best teams the West has to offer, but their ceiling is certainly frightening. As is their style to the future of the league.
Charles and Shaq, who had been so certain the Lakers' size would crush the Rockets in the second half, were visibly dejected and mortified in the post-game analysis. And understandably so–they had just witnessed a team declare the position they spent their careers playing to be outmoded (Giannis is proof that it is not by the way–which is why they love him).
And NBA Twitter was popping off — Bill Simmons was losing his shit over the Rockets and how their three-point shootout style was what was responsible for the dip in television ratings this season. Amidst all the bellyaching of "the lost beauty of the game," there was something truly enjoyable: when Kenny the Jet whimsically mentioned to no one in particular that he had played in the wrong era.