Antonio Brown doesn't owe anyone an apology for making his own decisions
ESPN analyst Stephen A. Smith called Antonio Brown "embarrassing," "selfish," and "disgraceful."
John Brown of the NFL on CBS questioned his integrity and whether he was prepared to succeed at life. Going even harder on Brown's name, Superbowl Champion Coach Tony Dungy said, "He'll be the biggest loser in the end."
I feel sorry for Antonio Brown. He's been blessed with amazing talent but he's lost track of the fact that football is a team game. So is life. He thinks he's the victim but he's missing out on the real joy that comes from being part of a team. He'll be the big loser in the end!

— Tony Dungy (@TonyDungy) September 7, 2019
Antonio Brown is a great talent. But he is everything that is wrong with pro sports.

— Mike Francesa (@MikeFrancesa) September 8, 2019
Reason No. 5,345,637 I love CFB … no Antonio Brown.

— Heather Dinich (@CFBHeather) September 7, 2019
If you were to listen to the soundbites over the weekend, and this past summer for that matter, you'd think NFL wide receiver Antonio Brown had either punched his wife in an elevator, was charged for prostitution solicitation of an Asian Day Spa or took performance-enhancing drugs.
No, instead all Antonio Brown has done — in a shark, cold, shrewd manner — is look out for himself. What's been most surprising about the outrage and sheer viciousness of the media coverage the 31-year-old now New England Patriot has had thrown his way is the hierocracy in it all.
Where did this mandate that players must put coach, team, and league before themselves come from? We're talking about the same league that has the highest athlete turn-over, where fans will hate you the second you don't produce for them and forget you when you're done, and, by the way, is currently still blackballing a player for free speech.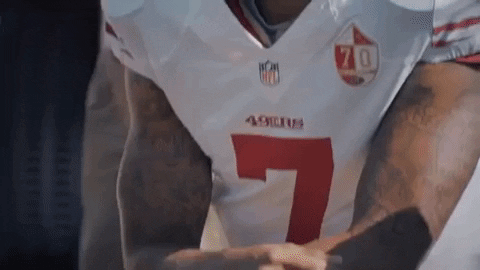 Where did this virtuous molehill everyone is standing on come from? How many of us at with regular 9 to 5s would put our jobs over ourselves and, for all intents and purposes, not do what's in our best interest when the time arrives?
Granted, everything Antonio Brown has done lives up to all the stereotypes that come with being a diva star wide receiver, and then some. From his last moments as a Pittsburg Steeler to signing his one-year deal worth up to an estimated $15 million with the Patriots, there is no real vouching for a character for the star receiver.
Antonio Brown may not have agreed with the Steelers' team policy on social media but he could have handled it better than getting in a heated dispute with the coaches and throwing a football at his starting QB.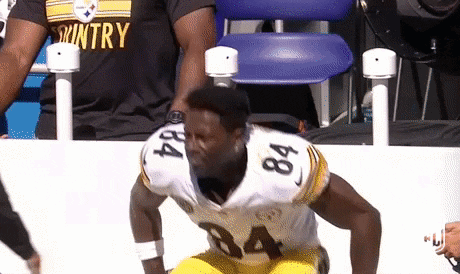 Similarly, he may have had issues with the NFL's new policy which decertified his longtime helmet but he didn't have to ghost practice and the Raiders' attempts to communicate with him.  
Mans even threatened to wash the team's general manager, Mike Mayock — "in the face" — because he wasn't happy with them canceling his guarantees which he could have gotten out of in a more peaceful way. 
Antonio Brown may be picky, a diva, sensitive, and incredibly selfish but not a single soul was harmed. He decided that he wasn't happy with the workplace and did what he thought was best to change it.
People easily forget how gruesome, short and how underpaid the athletes are in the NFL. While jokes of Brown having CTE go round, 29-year-old Pro-Bowl quarterback Andrew Luck has retired due to the toll of the game on his body while quality players like Melvin Gordon of the San Diego Chargers are still fighting to get paid his worth.
This isn't the NBA. NFL players have a short window to maximize talent before they're exhausted and replaced by someone cheaper.
In nine previous seasons with the Steelers, Antonio Brown has made seven Pro Bowls and earned four first-team All-Pro honors. He has led the NFL in receiving yards twice (14′, '17) and in receptions (14′, '15) on two occasions.
Just last season, Brown was the league leader in touchdown receptions.
Antonio Brown acted his way out of Pittsburgh, got a raise and guaranteed money in Oakland, acted his way out of Oakland, got guaranteed money again in New England … and this is all in a span of 6 months. Talent wins.

— Tom Pelissero (@TomPelissero) September 7, 2019
He's cold and he knows it. So why not leverage his Hall of Fame paced prime?
As he said when he became unhappy and wanted out as a Steeler to ESPN's Jeff Darlington,
"I don't even have to play football if I don't want to, bro. I don't even need the game. I don't need to prove nothing to anyone. If they want to play, they're going to play by my rules; if not, I don't need to play."
And, honestly, I don't blame the guy.
As "extreme" as his Brown's antics have been, Kansas City Chiefs receiver Tyreek Hill just signed a $54 million dollar extension last week, this after prosecutors ended an investigation into allegations that he physically abused his 3-year-old son.
While investigators couldn't link him as the child's abuser, audio that appears to be him threatening his fiancée is far worse than anything Antonio Brown has done.
"You need to be terrified of me too, bitch," I would think, would be less received than being annoying about a helmet. Brown was not eligible when the Patriots opened their regular season against Brown's old team Sunday night at Gillette Stadium but is expected to be active by week three.
As for his guaranteed $30 million that gripers are saying he foolishly left behind, Brown's agent said Saturday it's possible they'll file legal action against Oakland on how discipline was carried out and his voided contract. If he wins the grievance, he would count over $50,000,000 this year in dead money for two teams: Oakland for $29,125,000 and Pittsburgh for $21,120,000.
Say what you want about how Antonio Brown handles disagreements, his attention span, or neediness. Just make sure you add that he knows he's a talented athlete in a league who knows his worth.
Antonio Brown isn't a bad guy, he just wants what he wants and knows how to get it. What everyone has trouble accepting is that when you're behavior doesn't come at any consequence and you have the talent to boot, you can.