Andre 3000 will star in sci-fi film about convicts going to space
Andre 3000 may not be making new music anytime soon, but he will be starring in a new sci-fi drama where criminals go on a perilous space mission.
The Outkast star has been tapped up to appear alongside Robert Pattinson, Juliette Binoche, and Mia Goth in the film High Life.
According to Variety, the plot of High Life is a little out there,
"The film revolves around convicts who reduce their time behind bars in exchange for embarking on a dangerous mission to a black hole."
Seems like a pretty interesting concept.
High Life is the English language debut of French director Claire Denis, known for her films 35 Shots of Rum and White Material.
While it's cool and all to see 3 Stacks starring in films about convicts investigating black holes, we really just want a new Outkast album.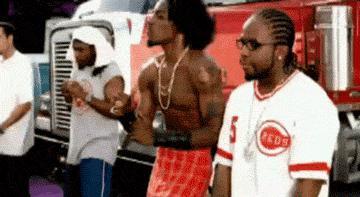 Unfortunately, that's looking less and less likely.
Back in August, Andre 3000 spoke to Complex about how he views rapping as a hobby and that he doesn't have the same drive to do what he used to,
"It's really just an excitement thing, and where I am in life. I kind of like not being a part of [rap], now that I've done it. As I get older, I start to see myself move more back from it—the hustle and bustle of putting out an album, the pressure of being in the studio trying to come up with something. Now it's more like a hobby for me, so I don't think about it in that way."
Andre went on to say he doesn't want to be one of those old ass rappers in a young person's game,
"Even with Outkast — if we never do another album, I'm totally fine with that. When I was 25, I said I don't want to be a 30-year-old rapper. I'm 42 now, and I feel more and more that way. Do I really want to be 50 years old up there doing that? When I watch other rappers that are my age I commend them, but I just wonder where the inspiration is coming from. At this stage I'm really more focused on what I am going to be doing 10 years from now. And I hope to God it won't be rapping."
That's pretty sad, but I suppose it's fair enough.
It'll be interesting to see Andre 3000 next to actors like Robert Pattinson and Juliette Binoche in what sounds like a pretty radical concept.
Pattinson recently appeared in the crime-drama Good Time, scored by Oneohtrix Point Never.