With the huge buffet of shows and movies we can watch at any moment on any screen we usually forget about the really good animated shows there are.
Maybe it's because they remind you of cartoons so you misjudge them to be too childish but the animation is where it's at.
Whatever your tastes are there's probably an animated show for you. And if you're just looking to break the drama binge cycle of Grey's Anatomy or Mad Men, animated shows can not only give you some lighthearted laughs but also deal with some pretty deep stuff.
Looking for the next adult animated show to binge? This is an incomplete guide to animated shows you can watch on streaming websites right now.
Bob's Burgers – For when you want a Wholesome laugh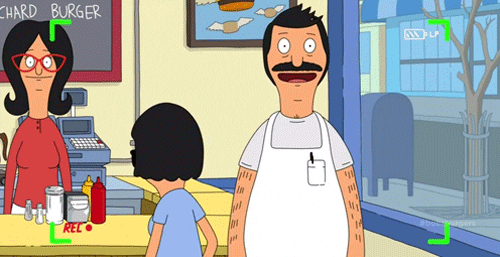 Adult content rating: 2/5
Where to watch: Hulu
Seasons available to stream: 9
Bob's Burgers is a staple tv show that you can put on at any time when you're trying to relax.
The show follows a Jersey family "The Belchers" that run a Burger place. The show is clever af, with Bob the father of the family regularly coming up with different lame/genius puns for the burgers he makes.
The intro itself, in each episode, has an Easter egg. But what really makes the show is the characters. Linda Belcher is the wine mom that has several singing and dancing passions, as well as inappropriate quirkiness.
Tina, the eldest is the socially awkward boy obsessed nerdy girl, who follows the rules and is just trying to get through puberty being herself. Gene is the middle child, constantly making beats with weird noises, like farts and recorded quotes out of context.
Louise is the evil mastermind that is constantly looking to make money and play pranks. And Bob, the father that is trying to keep it all together.
Rick and Morty – For the sci-fi geek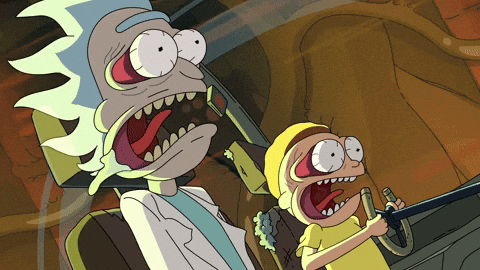 Adult content rating: 5/5
Where to watch: Hulu
Seasons available to stream: 3
Rick and Morty is what happened when Adult Swim decided to make a show loosely based on the relationship between Marty McFly and Doc from the Back to the Future films and the Doctor Who series.
Rick Sanchez is the crazy alcoholic chaos-loving genius mad scientist, and Morty is his anxious, kid grandson who wants to go on adventures but is also afraid of nearly everything.
The show is kind of like going on an acid trip and tripping about traveling through time and space. Watch any part of the Interdimensional Cable episode and you'll understand what it's all about.
Basically, watch this if you want an R rated version of The Magic School Bus.
Gravity Falls — If you like Mysticism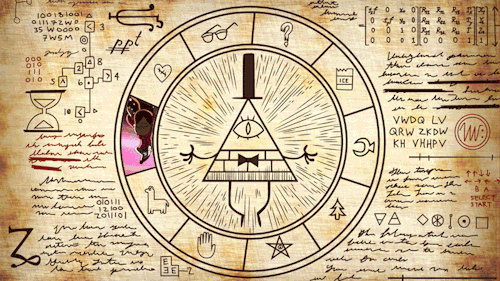 Adult content rating: 1/5
Where to watch: Hulu or DisneyNow
Seasons available to stream: 2
Super popular on Tumblr back in 2012 when the world was gonna end, Gravity Falls is about twins who spend the summer with their great-uncle, Grunkle Stan.
The two learn that the town Gravity Falls is pretty mysterious as towns usually are on TV.
The two encounter evil and attempt to vanquish it. If you ever watched Twin Peaks or even the twisty mythology of Harry Potter, you'll like this/
The Jellies — If you want more Loiter Squad genius
Adult content rating: it's on adult swim so what do you think?
Where to watch: Hulu LIVE TV or Amazon Prime video
Seasons available to stream: 1
Cornell, a human who was raised by jellyfish, just found out that he's adopted. He goes out on a mission to find his biological parents. He's as oblivious as you think he is and he gets into weird situations because of it.
With plenty of parodies like one of the Jerry Springer Show on the very first episode, where there's an actual Timb boot with a Yankees cap as a character.
If you loved Loiter Squad, The Jellies will be able to do even more random and insane stuff because that's the beauty of animation.
The Boondocks — For when you want a woke classic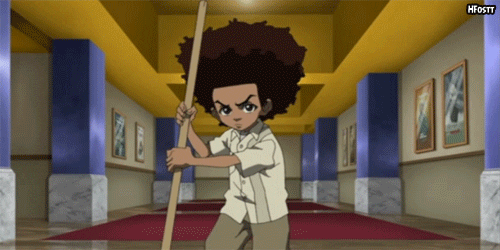 Adult Content Rating: 5/5
Where to watch: Hulu
Seasons available to stream: 4
The Boondocks, if you haven't watched it already, is a classic adult animated series. A forever favorite, The Boondocks speaks the truth on the big themes we deal with, from entertainment to the hustle to coming together as a community.
The show even dealt with the problematic support for R. Kelly way back. Woke and brave the show gets to the point and can still make you laugh. Oh and there's random martial arts fight scenes.
Adventure Time – For when you're high and wanna feel like a kid again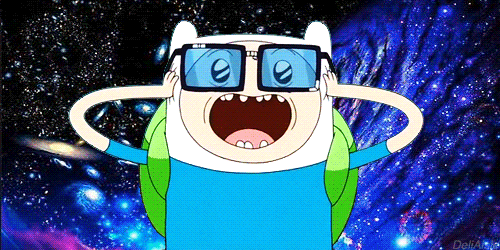 Adult content rating: 1/5
Where to watch: Hulu
Seasons available to stream: 10
Adventure Time was one of the first successful millennial era adult animated series. With weird looking characters in a wacky, oddly low populated land, the show follows its two main characters, Finn and Jake.
Finn is a human with sword skills and Jake a talking dog that can stretch and change his body into almost anything. The two fight monsters, but the really cool thing about the show is the psychedelic imagery.
Perfect for when you're blazed, the show has a simple plot with plenty of amazing artwork.
Big Mouth –If you want to relive puberty but in a funny way

Adult content rating: 5/5
Where to watch: Netflix
Seasons available to stream: 2 seasons and 1 Valentine's special
This animated show was the no-nonsense discussion about puberty and sex ed that you needed in middle school. Sex topics always get a laugh, but with Big Mouth it feels like you're learning something.
The show is pretty good with making sure misconceptions are addressed and the characters are good examples of what it's like to be going through puberty as a pre-teen.
The Hormone Monster and Monstress are some of the best characters who try to embody what it's like to suddenly hit puberty. The show deals with much more than just sex but figuring out relationships and dealing with emotions like shame and embarrassment.
BoJack Horseman — For when you wanna deal with depression and anxiety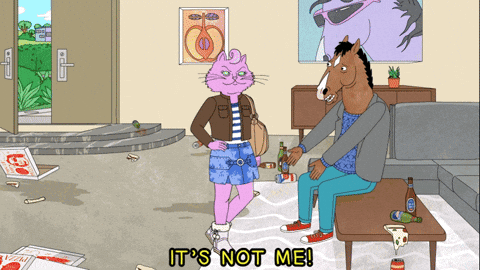 Adult content rating: 4/5
Where to watch: Netflix
Seasons available to stream: 5
BoJack Horseman is a washed-up TV star dealing with his failure to become a respected actor. He's kind of a terrible person, horse, horseperson? Oh and he's got chronic depression.
After season 1 is when things get pretty experimental. If you want to watch something both absurd and accurate about how hilariously terrible life can be this would be for you.