Come at Action the wrong way while he's performing and get beat the fuck up. Try to stop him from smoking his weed on stage and he'll square up with the security you call.
Leave a golf cart unmanned and he'll hijack that shit. If he needs to head to the bathroom during a set he'll find a portapotty to use – while still performing.
Action Bronson will stop at nothing when it comes to giving his fans an epic show. Shit, he'll even put you in a Titus O'Neil torture rack if he fucks with you.
For those who don't know what a torture rack is, this is what Action will do to you, if you ask politely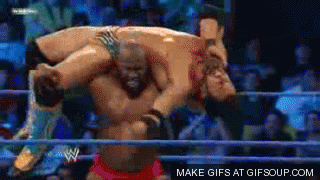 In other news, the Queens rapper and Fuck That's Delicious TV show host promised to drop his album today, Blue Chips 7000.
Last month during his performance at the Rolling Loud festival, Bronson took a moment to update his fans on the project.
"It's been a minute," he said. "I've been on this motherfuckin' run, man. Fuck That's Delicious. All this television shit. But I don't give a fuck about that no more. Blue Chips 7000 is coming out in a month."
"I don't give a fuck if I have to leak it myself. I don't give a flying fuck," he added, suggesting that the latest installment to his Blue Chips series didn't come as quickly as many fans had hoped.
---
Peep…
Did you catch it?! @ActionBronson confirmed his album is coming next month! #BlueChips7000 #RollingLoud3 pic.twitter.com/pgBz2mmll6

— REVOLT TV (@RevoltTV) May 7, 2017
I don't give a fuck if I have to leak it myself? I'm concerned that Action is possibly having some internal issues with Warner Bros. on releasing the project.
The announcement at the Rolling Loud festival came after he tweeted a month earlier that he was putting the finishing touches on Blue Chips 7000.
Just putting the finishing touches on Blue Chips 7000. All I gotta say is damn that shit heat. Be safe.

— BLUE CHIPS 7000 (@ActionBronson) March 31, 2017
So where the fuck is Blue Chips 7000? Is Warner Bros. halting the release of a masterpiece? Let my mans Action Bronson free you scum bags. The project is ready.
In an interview with Zane Lowe of Beats 1 Radio earlier this month, Action hinted to fans again that Blue Chips 7000 would be released on time.
'This is off of the new album, finally, 'Blue Chips 7000.' Finally it's coming out motherf**kers, let me free!' @ActionBronson

— Zane Lowe (@zanelowe) June 14, 2017
It seems like we aren't the only one's eagerly waiting on Action Bronson. Fans are taking to Twitter questioning the delay.
@ActionBronson DAD WHERE IS BLUE CHIPS 7000

— The Golden God (@_Snizz) June 23, 2017
Waiting on that Blue Chips 7000 pic.twitter.com/zpxu97zhT3

— morpheus (@dammitderek_) June 23, 2017
Wish Blue Chips 7000 dropped already

— Nah, You Good. (@uglynewyork) June 22, 2017
https://twitter.com/black0ut230/status/878244767783501824
Whatever the situation is the people need Blue Chips 7000. Action, we hear you brother and we know you want us to hear this album.
PUT MY MOTHERFUCKING ALBUM OUT.

— BLUE CHIPS 7000 (@ActionBronson) May 24, 2017