A millennial's letter to Mamba: Thank you Kobe for teaching us greatness
Kobe,
The first moment I heard your name when it meant something…
was related to a piece of garbage.
But if we made that piece of garbage into the trash can, we were considered greatness.
Extra props if we hit it on a fade-away… just like you.
An 8-year-old kid can barely fathom greatness in perspective to the world. But we equated your name with greatness on the playground w/ that ball of paper and a trash can.
Plus our parents revered you, so we automatically did too… the way Americans inherit all values, legends and traditions.
… You were ingrained in our everyday culture from the beginning. One of many reasons as to why you, Mamba, have been the biggest loss for a Millenial.
Fast forward through years of witnessing your career of five rings, 2 NBA Finals MVPs and 4 NBA All-Star MVPs. Fast forward through the years of using "Mamba Mentality" to push ourselves a little further in whatever it was we wanted to achieve, especially us athletes.
… Okay, so now we're starting to get a sense of the greatness we inherently gave you at 8.
Sooner than we think, we're 24 years old and tune into the historic moment of your last game ever. It came and went as quick as your step back fade-away, as you walked off the court with 4.1 seconds left in the game… For unison sake of course.
We can still barely relate to the word "historic" itself, as our conscious years have only really started. But, we know you're it.
We saw the rings, we peeped the stats, we heard the stories of the early workouts and the extra practices… we get it:
"Hard work equals success."
"Hard work outweighs talent."
Plus, we see the quotes on our highly valued social media every day.
So trust us, we get it.
But like I always say, "to know and to be are two different things".
Fast forward a few years, and we're finally independent yet social media-obsessed adults.
Our social media obsession gave us special access to you.
Special access to your family.
Special access to your daily interactions.
We watched you up close, and now we finally feel like we know the Bryants, especially you and GiGi.
We watched Gigi maybe even closer. We watched her grow up from high-fiving you from the sidelines on your game nights to you coaching her on her games courtside.
We were excited for her future like she was our little sister. At thirteen, barely a teenager, she was already the generation's Mambacita.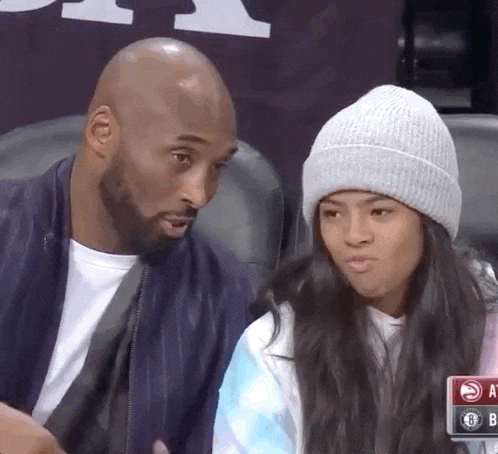 You're now the image of the perfect human on & off the court. The incomparable NBA player with the longest playing career.
A mentor to the great NBA players we currently watch. A dedicated father that Black America can look up to. A deliberate man parading for women's equality and the youth.
The media loves you. The people love you. The legends love you.
We fell in love hard. We grew closer than ever. We got comfortable.
You were always great. You were always invincible. You were always there – since we were 8.
But as every wise, older adult alludes, your late 20s / early 30s teaches you your hardest lessons. And we all have heard the lessons:
"Life is short"
"Life doesn't play favorites"
… but experiencing the lessons is it what really teaches us.
"To know and to be are two different things".
We hear these lessons. Grew up with these lessons. The same way we grew up with you. But it wasn't until you left us, was the lesson taught in a way none of us could simultaneously feel until now.
This wasn't quite like MJ. We weren't as conscious to grasp the gravity yet.
This wasn't quite like Whitney. The media projected her to be on a downward spiral, so the news was graspable although still grave.
This wasn't quite like John Witherspoon. We didn't know him quite like you.
This wasn't quite like the famous young rappers we've lost these past few years, we loved them but didn't grow up with them since we were 8.
We weren't ready. We were comfortable. We knew you. We made you our superhero.
Our generation has been harshly taught that another day is never promised, even for our superheroes.
Although always told, our generation has been harshly taught the true impact that greatness can have on the world. It is not enough to say it, quote it and post it, but we must BE it. As you were. Thank you for influencing a generation to be great. Your legacy lives on through that teaching alone.
#MambasNeverOut