5 ways Tekashi 6ix9ine can actually claim the 'King of NY' crown
When claiming the music throne of your city you can expect haters to call you a jester in the court of rap royalty. Especially if your name is Tekashi 6ix9ine.
If you've been under a rock the 21-year-old, rainbow haired, blood gang member, and Mexican-American Brooklyn rapper claimed last month that he is the King of New York via IG. In the video 6ix9ine said,
"A lot of people feel some type of way that I'm the king of New York, I feel you, but if I wasn't the king of New York, don't you think somebody would've stopped me by now? Don't you think somebody would've put an end to that? If I wasn't the king of New York, y'all wouldn't even wanna pay me no mind. Y'all be like, 'Just let that f*****g clown talk.' Y'all be so caught in y'all feelings cause y'all know it's true."
Can you blame 6ix9ine for claiming NY is his kingdom? He does have a point.
Besides Cardi B, it seems as if no other rapper from NY measures up with 6ix9ine's hit records. To add to his confidence, fellow NY royal rapper, 50 Cent, has co-signed 6ix9ine's throne siege.
The unicorn rapper has had his hit song "Gummo" appear on the Billboard's Hot R&B/Hip-Hop songs list twice at the No. 5 and 8 spot respectively.
Plus with the arrival of his debut album Day69, he was able to garner two more tracks on the Billboard charts "Billy" and "Rondo" which ranked at 38 and 31.
Lest we mention that most can't help but get hype to 6ix9ine's music.
Not only does his musical track record dub him a rap king (at this time) but his first studio album debuted at the No. 3 spot on both the Top R&B/Hip-Hop Albums and Top Rap Albums early in March.
The only problem with him claiming NY as his kingdom is that you can't just claim the throne and hold a musical scepter over all the kings before you. There are rules to this game.
Here are five ways 6ix9ine can actually claim the throne with no beef.
1. "Real G's move in silence like lasagna…"
The "Best Rapper Alive," Lil Wayne, rapped those bars in "6 Foot 7 Foot" seven years ago and no one has forgotten the wisdom he gave in that global hit song.
In 2011, Weezy F Baby "the key to the ladies" was at the top of his game. He released three Top ten Billboard tracks that year. Still, homie never claimed himself the king of New Orleans. Instead, he let the numbers and his music do the talking.
I suggest you take a lesson out of Wayne's book 6ix9ine. He had already been in the game for 14 years at that point and still stayed humble AF.
Just saying, you should follow suit, homie.
---
2. Get your face, brand and music in Times Square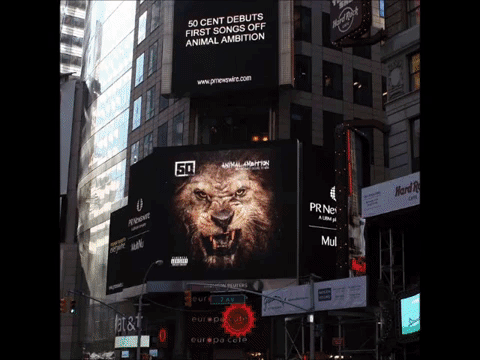 You can claim the rap throne of NY all you want 6ix9ine but until us New Yorkers see a billboard with your face printed on it in Times Square, sorry to say, but you aren't even close.
A king of NY like Diddy throws himself and his brand up on the Big Apple's skyscrapers so that everyone can see him as the king looking down on his empire. Same with Jay-Z.
Can you name another rapper who hyped up their album like 444?
Jay-Z really went above and beyond to prove his presence is godlike by taking out probably the most expensive ad space in the world. Where you at 6ix9ine? The king of my state is all over the city that never sleeps.
---
3. Think before you clap back and react to the hate
No one should have to "test your gangsta." For Pete's sake, it's 2018 homie. Learn from the rap gods before you like Tupac and Biggie whose offensive lyrics and words got them killed. RIP.
The beef wasn't even that crazy where they had to set one other up but music is so powerful that some crazy cook might take action, you feel me. 6ix9ine we all fuck with your music but move gracefully dawg.
If not for yourself, do it for us. Your music is to fire to fade away. Don't die on me!
---
4. Keep giving back to the people
This is good, as a great king always remembers the people within his empire. Only a foolish king would forget them.
Giving back is always good karma. It creates a bond between you and your fans that will be very hard to break in the future. This is what a king needs followers who will never sway because of what he has done for them or what he can do for them.
These are the people buying your music or giving you streams. The journey to the throne could be tough but it's important to never forget where you came from. Keep those who helped you close to your heart.
---
5. Let love be the guiding light when it comes to beef
https://www.youtube.com/watch?v=rkCIreenJvY
That above video is a snippet of Snoop Dogg telling the story of how Nas almost washed Tupac when he and the late rapper crossed paths in Central Park, NY. As Snoop says in the snippet, this is some real gangsta shit.
Tupac at the time was just about to debut a diss track and confronted Nas regarding its release. Nas said he had a love for Tupac and shook his hand but little did Tupac realize, Nas had close to 100 goons with him.
Instead of being the aggressor and absolutely scrubbing Tupac he didn't and approached the situation with love. This to me is possibly how Nas conquered NY by keeping his cool, approaching a situation with love and pouncing on his opposers at an appropriate time.
6ix9ine you should do the same. Don't let the hate get to you and always remember that a soft answer will always turn away wrath. Still, do you but do you smartly homie. We all fucking with the movement.
Bless up young Prince of NY!