5 teams you should watch this NBA season, even though they won't win a ship
With the NBA season less than two weeks away, we're getting more and more hype as each day passes. The focus all offseason has been on the rich getting richer, with all the contenders jockeying for position to compete with the Warriors.
The Cavs recruited a bunch of former All-Stars in Derrick Rose, D Wade, and Isaiah Thomas to replace the departed Kyrie Irving. As for Kyrie, he's headed to Boston with Gordon Hayward to form a new-look Celtics team that will be must watch TV.
The Warriors still have the best team by far, and added Nick Young and Omri Casspi, who will rain 3s and bring some serious explosion off the bench.
The Thunder might have the most enjoyable 2K team of all-time, bringing in Hoodie Melo and Paul George to team up with MVP Russell Westbrook.
This team should score and score some more and charming New Zealander Steven Adams will be waiting to swat away anyone who dares enter the paint.
There's so much talent in the NBA right now, almost every team has intriguing pieces worth tuning in to see on any given night (except the Pacers, please for the love of God don't watch the Pacers).
So while all the preseasons focus has revolved around the big teams revamping their rosters in the hopes of competing with the Warriors, there are a bunch of teams out there that will not come close to a championship this year but will be fun as shit to watch.
Here's a list of 5 teams that are worth clearing the schedule for. These teams will compete to varying degrees, but certainly not lift the Larry O'Brien Trophy.
Milwaukee Bucks
The Milwaukee Bucks made the playoffs as the 6 seed in the Eastern Conference last year and they should be hovering around the middle to top of the East this season if all goes according to plan.
They're led by Giannis Antetokounmpo, The Greek Freak, who is mini-LeBron. Giannis can pretty do everything on the court, he led the Bucks in points, steals, blocks, assists, and rebounds last year. He was the only player to do that in the league. That's brazy.
Giannis is somehow still only 22 (!) and head coach Jason Kidd loves throwing him in weird matchups where Giannis runs point surrounded by smaller players, giving opposing teams headaches as to how the hell to matchup with this dude.
Besides Giannis, the Bucks have last year's Rookie of the Year in Malcolm Brogdon, the underrated Khris Middleton, the gangly shot-blocker John Henson, and the wonderful Thon Maker.
Thon Maker's evolution into a stretch center who can bomb from 3 will be a great subplot to watch with the Bucks, as will their weird trap defense, in which they surround opposing teams with their litany of lanky 7'0″ wingspans and force you into action. Sometimes it doesn't really work at all, but it's fun to watch!
When Jabari Parker comes back (he's targeting a February return) from ACL surgery, the Bucks and Kidd will be able to do even weirder shit with their lineups.
If everyone stays healthy and Giannis keeps developing, the Bucks could fuck around and give the Cavs and Celtics serious headaches in the East.
---
Philadelphia 76ers
Shoutout The Process.
Poor Sam Hinkie laid the groundwork for this current Philly team by hilariously sucking for years and got canned as soon as it was slowly coming to fruition. Pour one out for Yung Hinkie.
I have no idea what this 76ers team is going to be like, but with former lottery picks Markelle Fultz, Ben Simmons (the 1st overall picks from last two years), and Joel Embiid finally taking the floor together, there is some serious talent on display.
The 6ers added good man and veteran J.J. Redick to bomb 3s and make funny, and actually interesting, comments about being white in the NBA.
Have I mentioned Joel Embiid yet? Because dude is a legitimate stud. Not only does he not seem to understand that being an NBA player means you're supposed to be mad boring, but he is a completely unique talent.
https://www.youtube.com/watch?v=0K8bhC-mhmU
At 7'0″ Embiid can handle the ball, cross up a defender, and splash a pull up in his face. He can post up with his back to the basket and spin right past his helpless defender. He can shoot 3s. He claims that he learned to shoot by just watching videos of "normal white people" shoot on YouTube. Dude is a Cameroonian treasure.
Everyone please keep Embiid's health in your thoughts as we need this dude playing. Regardless, the Sixers will definitely limit his play time as a precaution.
https://www.youtube.com/watch?time_continue=1&v=vvd9RZRPqXQ
Ben Simmons has flown way under the radar, but there's a reason he was the number 1 overall pick last year, dude is a freak.
Despite all the talent, the 6ers are really fucking young. It would be a small miracle if they make the playoffs, let alone win more than 30 games, but god damn is it gonna be fun every night.
---
Miami Heat
The Heat don't have a player like Giannis or Embiid, a young, transcendent talent that will (barring injury) be a staple of the NBA for the next decade, but they do have a hilarious rag-tag group of some awesome players.
Point guard Goran Dragic is still doing his little herky jerky lefty drives to get to the rim, Hassan Whiteside will not let you anywhere near the paint, Dion Waiters has the biggest balls in the league, and James Johnson has cool hairdos.
(Quick little shoutout to my fellow Cuse alum Dion Waiters, one of the most enjoyable dudes in the NBA. After becoming a punchline over the years for his irrational confidence, he proved all the haters wrong with a great season last year and signed a four year $52 million contract this offseason. Keep thriving Dion.)
Throw in young talents Justise Winslow and Josh Richardson (who are still very raw, relatively unknown commodities) and the Heat should compete for a low-end spot in the Eastern Conference playoffs.
Head coach Erik Spoelstra is one of the best in the game and he always figures out how to get the best out of his squad. The Heat started last season 11-30 and ended up .500, tied with the Bulls for the 8th seed, but lost out on a tie-breaker.
It's unclear whether the Heat are the team that went 11-30 or 31-12, probably somewhere smack dab in the middle, but they'll be a tough matchup every single night even if their fans don't show up until the 2nd half.
---
Los Angeles Lakers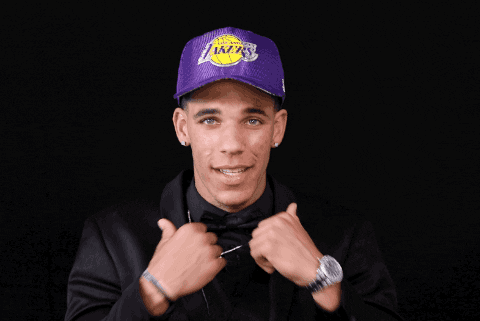 Everyone is talking about what the Lakers are going to do next offseason.
Will they assemble the Banana Boat All-Stars and lure LeBron, Melo, Chris Paul, and D-Wade to LA? Is Paul George already a given to go to the Lakers? Will LaVar Ball get a front office position? It's all on the table.
But for all the noise about next season, the Lakers will be super fun this season. Rookie Lonzo Ball is really, really good and his foul court passes out of nowhere and general unselfishness will encourage all-around better ball movement from the entire team.
It's unclear exactly what Brandon Ingram is, he showed flashes of brilliance last season, but also looked disinterested and sluggish at times.
Julius Randle isn't built in the stretch four mold that's become so fashionable these days but he plays all out every possession, bullying defenders in the paint and gobbling up rebounds. He's like Zach Randolph-lite, without all the weed.
Brook Lopez shoots 3s now, so that should be interesting, although he's still incredibly weird looking.
Larry Nance will dunk all over your face.
There's virtually no chance the Lakers are anywhere near the playoffs this season, the West is just way too stacked, but watching them will be an enjoyable experience on any given night.
https://twitter.com/netw3rk/status/606644566356316160
Bonus points for having resident stoner Luke Walton as head coach.
---
Denver Nuggets
The Denver Nuggets barely missed out on the playoffs last season in the jam-packed West and should be fighting for a low seed again this season.
Jamal Murray and Gary Harris form a very low key exciting young backcourt. Both can bomb it from deep and make intelligent plays to get in the paint.
Adding the great Paul Millsap to the front court should help the Nuggets' ball movement and spacing (and less Kenneth Faried wild card moves).
Wilson Chandler is still doing his thing, getting some buckets and playing some solid defense with a little head high going.
But the Nuggets are a must-watch team because of Nikola Jokic.
This dude is an absolute monster. In his second year in the league, Jokic developed into one of the best centers in the league. After the All-Star break, he averaged 17.7 PPG, 11.6 RPG, and 6.1 APG. He can score, he can play defense, he will snatch a rebound directly from your helpless paws, and he has point guard-level court vision.
Surrounding Jokic with cutters and smart offensive players makes this Nuggets team a very interesting proposition in the West.
As always, teams will struggle to play in Denver because of the altitude and legal weed.
Cop League Pass and sacrifice all valuable relationships to watch these teams. You will not regret it.