4 jewels Jay-Z blessed us with in his David Letterman interview
There are few things rarer in hip-hop than a Jay-Z interview.
The 21-time Grammy winner and aspiring billionaire has transcended the status of a mere rapper, so, naturally, certain media stipulations just don't apply to him.
The last time Jay gave an interview was when he appeared on the Rap Radar Podcast during his press run for 4:44, and that was in-house.
Now, thanks former Tonight Show host David Letterman, we've been blessed with another one.
The fourth episode of Letterman's in-depth Netlfix series My Next Guest Needs No Introduction With David Letterman, which has had guests from George Clooney to President Obama, is back with Shawn Carter as his latest guest.
The 50-minute interview which dropped on Netflix Friday touched on a myriad of topics including infidelity, his mother's sexuality and Kanye.
Given how Jay-Z sit-downs come few and far between, I found it irresistible to bring out his most memorable moments with Letterman. A good interview leaves the viewer with new information, so here are my takeaways.
Jay-Z has always owned his music
Jay-Z to Letterman:
"I came into the game as executive producer and the owner of the label of my first album."
Everything Jay preached on 4:44 — black entrepreneurship, financial responsibility, etc. — is the same rhetoric he's been peddling since the beginning of his career.
Coming into Def Jam in '97 with the savvy to sign as a partnership, become president and then to branch off to form his own shows why he's in the position he is today.
---
He and Kanye are 'beyond friends'
On the opening record of his most recent album 4:44. Jay-Z gives more attention that he normally would to anyone when he addressed his feud with Kanye West.
"You walkin' around like you invincible / You dropped outta school, you lost your principles / I know people backstab you, I feel bad, too / But this 'fuck everybody' attitude ain't natural / But you ain't the same, this ain't KumbaYe / But you got hurt because you did cool by 'Ye."
He's speaking, of course, about Kanye spazzing out at shows back in 2016 and addressing issues between he and Jay in a public manner (which we all know you never do). Knowing this Letterman dive right in, asking if Kanye and he were friends.
Jay-Z responded:
"That's my brother. We're beyond friends. Like literally, my little brother is Kanye. And like your little brother, things happen sometimes."
---
Jay-Z feels like "Young Forever" is unfinished
One of the things Jay-Z is known the most for is his ability to write lyrics in his head without writing them down.
Intrigued with the process, David asks Jay process and how long it can take. In explaining Hov admits that some songs never do feel finished.
Jay-Z explained,
"Forever Young took me a month to finish and it never turned out the way I wanted it. It went on to be a very successful song for me, but it still bothers me that I didn't finish it the way I wanted to."
---
The Trump administration is a good thing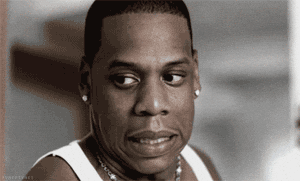 If there have been any proponents to Trump, it's defiantly been Jay-Z.
Conservative pundits like Tomi Lauren has gone after him simply for being invited to the White House and he's always been vocal about his disdain toward his leadership.
But when talking to Letterman he did manage to find a silverzlining. I think it's actually a great thing." He explained:
"What he's forcing people to do is have a conversation and people to band together and work together. Like, you can't really address something that's not revealed. He's bringing out an ugly side of America that we wanted to believe was gone and it's still here. We still gotta deal with it."
Watch the rest on the interview on Netflix.