10 matches that need to happen at Wrestlemania 34 next year
Wrestlemania is one of the biggest events in WWE history.
Copying the idea of Starrcade from WCW (dig that suckaaaas), WWE put on a huge show capitalizing on the Rock 'n' Wrestling Connection as well as wrestling's growing popularity.
Matches at Wrestlemania are make or break moments in a superstar's career.
Moments like Hogan body slamming Andre the Giant, Shawn Michaels winning his first world title after a 60 minute Ironman match, Stone Cold vs. the Rock, Cena toppling the Rock, and Brock breaking the legendary Undertaker's Wrestlemania Streak define Wrestlemania.
Many young superstars have a shot to achieve their "Wrestlemania Moment" that will stick with generations of fans.
Fans always fantasy book matches for Mania, myself included hoping that some of these dream matches really do happen at Mania.
Even though Wrestlemania 34 is still far off, I'm already booking dream matches that I want to see at the grandest stage of them all.
On the Raw roster…
The Revival vs. Cesaro and Sheamus vs. The Hardy Boyz (TLC Match for the Raw Tag Titles)
https://giphy.com/gifs/randy-orton-cesaro-kevin-owens-vqvoQOB2BwttS
Cesaro and Sheamus, after being rivals in an awesome Best of 7 series, were made an uneasy tag team by then Raw GM Mick Foley and they soon turned into something incredible, going on to win the Raw Tag Titles twice and at this time are the current Raw Tag Team Champions.
The Hardy Boyz lost the Raw Tag Titles to Cesaro and Sheamus after a Steel Cage Match and are looking for the chance to cement their legacy as the greatest tag team "in all of space and time."
https://giphy.com/gifs/hardy-wOSeqyE3nR8XK
The Revival don't really have any direction at this point but they are a superbly talented tag team (check out their series with DIY in NXT it's simply stunning) and could really breathe life and young blood into this feud.
The TLC stipulation gives all three teams a dangerous playground to experiment with. With the right build, this match will be simply DELIGHTFUL.
---
Braun Strowman vs. Brock Lesnar No Holds Barred for Universal Championship
https://giphy.com/gifs/the-usos-braun-strowman-tommy-dreamer-ExBh0Xn45RpSw
Braun Strowman is one the the most impressive specimens in wrestling today.
A large man whom Vince absolutely adores (prolly more than his Big Dog), the "Monster Among Men" was seemingly on his way to a World Title feud with Brock Lesnar however he suffered a minor shoulder injury therefore changing plans.
Brock Lesnar is a physical specimen.
A former UFC heavyweight champion (JBL says it all the damn time) Lesnar won the Universal Championship at Mania 33 by defeating Goldberg.
This story writes itself. Let Strowman finish Roman Reigns off (please god no one wants Lesnar v Roman II much to Vince's disappointment) and remind Brock that he challenged him to a Universal Title Match on Raw and let Heyman accept on Brock's behalf.
Keep the appearances few but make the few times they do meet an absolute sparkfest with Heyman carrying the feud with his stellar promo work.
Braun is still limited in the ring and the No Holds Barred stipulation gives both men room to make their confrontation a brutal and physical affair as well as cover up Braun's fixed moveset.
Brock should drop the title to Braun Strowman as it would hugely put Braun over as a dominant champion as Brock rarely loses clean and start to build the Universal Championship as a credible title.
---
Roman Reigns vs. Dean Ambrose vs. Seth Rollins II?
Dean Ambrose and Seth Rollins are currently embroiled in a storyline where Seth is trying to get Dean to forgive him.
The only reason is that he's trying to win over his old Shield brethren. Roman is the next logical target when he wins Ambrose over.
https://giphy.com/gifs/wwe-roman-reigns-the-shield-1YvWRuxCPGKwE
They trust Rollins and reform into the Shield and go after titles but fail to win. They lose a six man tag match because one member walks out on the other two. They confront each other in the ring and implode with Dean emerging as a heel.
We did see this match at Battleground last year but again the fact that Battleground is a B show (sorry again b shows) made the encounter seem lackluster.
Wrestlemania is the perfect stage to find out who the best in the Shield really is.
---
Miz vs. Samoa Joe for the Intercontinental Belt
Miz is a truly despicable heel and one of the best workers in the WWE right now.
Yeah I know we all don't like him because he's "Hollywood" and didn't start out wrestling but you cannot deny the solid impact he's had on the upper midcard and the Intercontinental Title.
He's also one of the best sniveling heels and with the addition of the Miztourage, he's got a commanding grip on the IC Belt.
Enter Samoa Joe, a bonafide main eventer coming off a run for the Universal Championship. Let the story start off with Miz costing Joe a number 1 contendership spot and make Joe obsessed with getting his hands on destroying everything Miz holds dear including his IC reign.
https://giphy.com/gifs/wwe-nxt-samoa-joe-qVSVmGCf0PET6
Miz is still a heel using his wife and the Miztourage to keep Joe at bay but Joe turns into a more antihero role similar to Stone Cold.
Give them time to craft a story and this could be gold.
On the Smackdown roster…
AJ Styles vs. Shinsuke Nakamura
https://giphy.com/gifs/njpw-shinsuke-nakamura-wrestle-kingdom-10-iG7BFyVe8GynS
If you've been watching both AJ and Shinsuke, they put on an absolute classic in NJPW at Wrestle Kingdom 10 for the IWGP Intercontinental Title.
Once the Superstar Shakeup occurred and Shinsuke debuted for Smackdown Live, fans have been licking their chops anxiously awaiting a Styles/Nakamura match.
https://giphy.com/gifs/njpw-shinsuke-nakamura-kazuchika-okada-Ca8T1PYcV1BZu
This story should not be rushed or put on some lame ass B show (sorry b shows) but this has money written all over it and Vince, who wipes his cheeks with money, will be slobbering over the idea of a Nakamura/Styles match.
The stars will shine, the planets will align, and this match will be freaking spectacular. Let the feud build on mutual respect and have both men save face. This match has the potential to be a 5 star match if given the time and booked right.
---
John Cena vs. Undertaker
This was one of the most rumored matches to happen for last year's Mania in Orlando but since Vince McMahon's ego is bigger than the Superdome, he reshuffled the card and cancelled the match.
Since the birth of the internet, many plans have been leaked and Vince hates when people figure out his plans.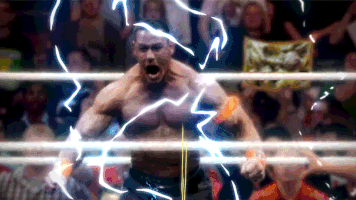 The card was reshuffled as we saw Cena in a mixed tag match with Nikki Bella and Undertaker got mauled by Roman Reigns.
'Taker did leave his coat and hat in the ring signaling that it may be his last match.
Even in his 50's, Undertaker is still able to draw both casual and hardcore fans and Cena is a polarizing figure in wrestling.
These two would definitely put on a crazy match and put butts in the seats for Mania 33.
---
Sami Zayn vs. Finn Balor vs. Luke Harper Triple Threat for US Title
The US title is in a terrible place right now. Considering it next to the Intercontinental Title, the once prestigious US Title is buried deeper than many careers.
The Intercontinental Title feels worth holding and important while the US title exists and takes up space like a bad habit.
The title hasn't had any meaningful matches and they seem to be trying to save the very fast sinking ship by putting the strap around AJ Styles.
However, the title needs meaningful and hard hitting matches to restore prestige to the belt.
https://giphy.com/gifs/wwe-nxt-sami-zayn-EEgcJ8PHHsnio
The US title was seen as a workhorse title which guys would hold on their way to World Title. Let Balor come over to Smackdown Live as he has no current direction on Raw.
Let the three of them feud over the US title as we head towards Mania 34.
Finn and Sami are both extremely fast-paced and Luke Harper is quite agile for a big man. Let the three of them have time to work and we could have a potential match of the night and begin the US Title's resurgence.
---
Baron Corbin vs. Tye Dillinger
https://giphy.com/gifs/wwe-nxt-baron-corbin-sEHccVqmG3Qic
With the company high on Corbin because Vince McMahon has a thing for big men, it's only a matter of time before he cashes in his Money in the Bank and wins his first world title.
The fans are loving Tye Dillinger and WWE needs to capitalize on his insane popularity instead of letting it fade away.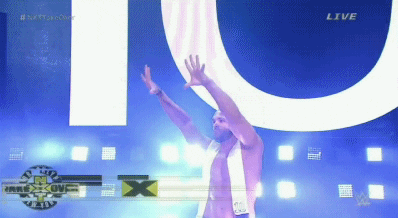 Even when he isn't wrestling, fans are chanting "10" during counts. Tye is a great wrestler and some of his work in NXT is impeccable.
Seriously, check out his matches against guys like Bobby Roode, Eric Young, and Andrade Almas. Baron will need a credible opponent to cement his title reign as well as cover his shortcomings in the ring.
---
Kevin Owens vs. Kassius Ohno
Kevin Owens is one of the most entertaining wrestlers on the planet with his mic skills mixed in with his seemingly limitless ring ability.
Currently after losing his United States title he needs a new direction in the company. Kassius Ohno, a superb ring worker with mic skills to stand toe to toe with Owens.
Ohno doesn't need to stay in NXT for long as he's an accomplished star outside of WWE (under the Chris Hero moniker) and the current NXT male roster with the likes of Drew McIntyre, Eric Young, and Roderick Strong who can all carry the brand into the future.
https://giphy.com/gifs/wwe-wrestling-nxt-uw4J8oHCbth84
The time is now (damn you badly placed Cena references) for Ohno to get his call up and feud with Owens.
The mic work on this feud alone would be remarkable and the match itself would be a display of Ohno's skills to the casual fan and Owens at his most heelish trying to make sure he escapes with a win.